Kale + Paleo = Kaleo. It's a joke, yo! A word I made up because people always seem to want to label my way of eating, to put me 'in a box'. I kinda liked it though, and it took on a life of it's own. It grew into something more than a play on words, an anti-dogma if you will. Kaleo resists the philosophical dogma that there is only ONE right way to eat.
Everyone's 'ideal' diet is very individual and unique to themselves. Here's a graphic that depicts how I decide what to eat.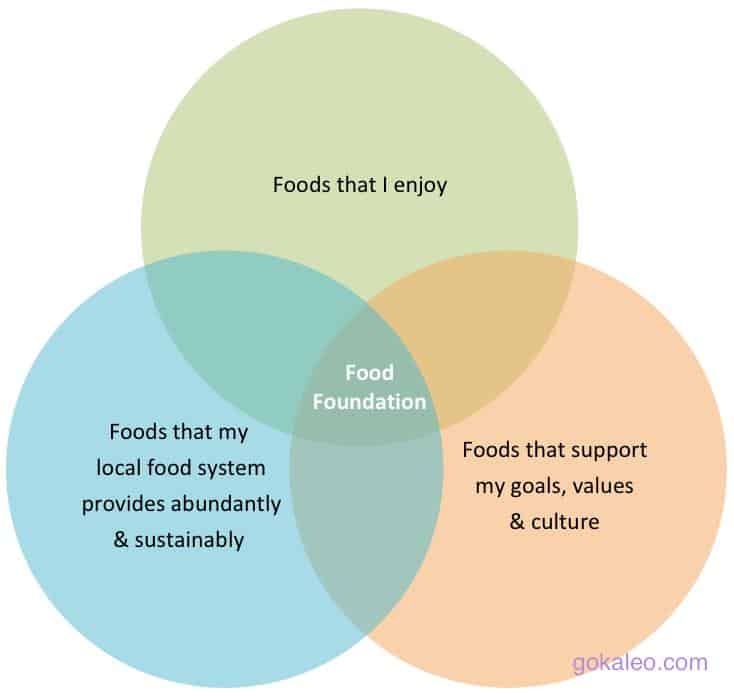 I try to get as much of my nutrition as possible from foods that fit into the 'Food Foundation' intersection. Of course I do eat foods that aren't in there, like coffee and chocolate, but those aren't the foundation of my diet, and I consider them treats. Using this template, everyone's diet would be unique to their values, goals, personal tastes and local climate. There is no one right way. I live in a temperate climate with a year-round growing season that supports a rich and varied plant based diet, so that is what I eat. It is also how I enjoy eating, and it supports my value system of using the fewest resources possible to support my needs, so that there is more for everyone to thrive. These things are important to me. Others have different tastes and values and other climates support different food systems. There are some places on earth where animal foods require fewer resources to produce (or import) than plant foods; climates like that would more sustainably support an animal foods based diet.
My way of eating evolves as I learn, and as my body changes, so flexibility is also a component of Kaleo. And most important of all, a sense of perspective: we are unbelievably fortunate that we have the freedom and resources to spend time optimizing our diets. Lets be gracious to others who are just beginning their lifestyle change, and lets be aware of how our food choices impact our environment and the people and creatures we share it with.