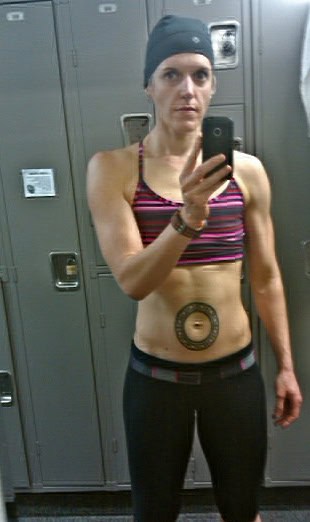 Look! My self-discipline is showing! At least that's the message I got from a fitspo image I recently saw, an image of a headless female torso with visible abs and the words 'Careful, Your Self-Discipline is Showing'. I of course thought of this picture I took of myself 3 months ago, with my self-discipline showing. So I'm posting it, so all of you can see my self-discipline too! Aren't I self-disciplined? Don't you like the way my self-discipline looks in that lighting? I especially like the way my sports bra and low rise yoga pants highlight my self-discipline.
Do you want to know what my self-discipline entailed? You can read about it here, but the jist is that I had to be relentlessly diligent with my diet. My nutrition was pristine, but keeping it that way while also maintaining the calorie deficit necessary to shed body fat to this degree and keep it off required an extraordinary degree of mental, and ultimately emotional, energy. We don't have an unlimited supply of energy, folks. The energy I applied to my diet, and to resisting temptation, cravings and compulsions to eat, had to come from somewhere else, and it came from my creative endeavors, my job performance, my patience for my kids and my sex life (sorry honey).
Maybe if I were filthy rich with a maid and a nanny and a chauffer for my kids, or single and childless, or just devoid of ambition to excel at anything other than having low body fat, it would have been different. But as it was, my 'self-discipline' came at the cost of all the things that made life rich and joyful and worth waking up in the morning for.
Today I weigh about 10 pounds more than I did in that picture. My butt is bigger, and while you can see that I have abs, they are not sharply defined. And if I wear tight enough pants and slouch just right, I can even sort of give myself a little muffin top. But I like hanging out with my kids again, and I don't have to weigh and measure every morsel of food I put in my mouth, and I have mental and emotional energy for taking on new projects at work, and for writing blog posts, and yes, even for my husband.
So lets talk a little bit about 'self-discipline'. You don't have an unlimited supply of it. Are visible abs (or whatever aesthetic ideal you hold yourself to) really where you want to spend yours? Do you think that maybe, just maybe, there are more important things in this world you can use your valuable mental and emotional energy to produce? Imagine how powerful we women could be if we freed ourselves from self-loathing and used all that mental energy to produce something tangible that actually benefited…well, anyone.
Eat well, eat for health, eat to nourish your body and fuel your activity. Exercise often and hard, for it makes you stronger and healthier and more confident. And all that 'self-discipline' you've been focusing on shedding that last few pounds of body fat? Use it to write a book, or move up the ranks at your job, or travel, or teach your kids something new (something other than how to hate their bodies), or start an urban garden, or run for public office, or start a charity, or get to know your neighbors and create a safe community for your children, or tutor kids who need a helping hand, or clean up the local park, or…' Really, there's no limit to what you can do if you can harness all that energy that's been funneled into obsessing over your body and your diet. Your life ISN'T going to be better when your abs show. It really isn't. I can tell you this from experience. The marketers want you to think it will be, so you buy their supplements and diet plans and workout routines and drugs and potions. But it won't actually be better, and for a lot of you it might even be worse. But your life may be better if you build something worthwhile that makes this a better world to live in. Invest your energy where it can do good, not just look good. People that matter, people who do good things in the world, people who will add richness to your life, those people don't care about your abs anyway.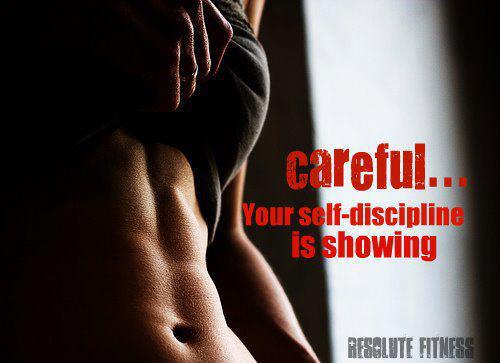 Like what you've read? Join the conversation on facebook.