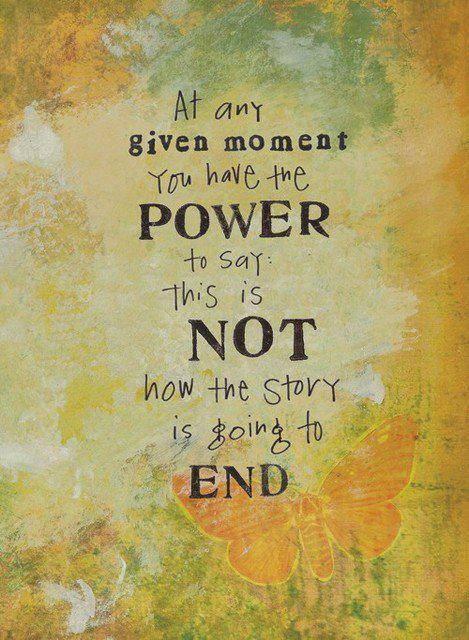 You know those people who think it's fun to cross the street r e a l l y s l o w l y, smirking at you the whole time because they got one over on you? They had power over you for one minute? They forced you to wait? I used to get annoyed with them. And then one day I realized that the reason they enjoy that moment of power is because they feel so powerless in the rest of their life. For whatever reason, they feel so powerless as they move through life that they relish that moment in the crosswalk, forcing someone to wait for them, forcing someone else's life to revolve around theirs for a moment.
It's sad. Sad that our culture fosters that sense of powerlessness in so many.
I don't get annoyed by it any more. I sit and wait, because once that moment is past, I will continue on my way, continue my way through this life of blessings. I go home to a safe and comfortable home, a husband who adores me, healthy strong children, good food to eat and the freedom to shape my life the way I want it. I go to a job that I love, that allows me to grow and learn every day, that appreciates my skills and allows me to foster my interests. I'm surrounded by positive, intelligent people who enrich my life every day. I have power in this life, the power to really affect my world in a positive way, not just for myself, but for the people around me. So waiting a few extra seconds for someone to cross the street isn't worth getting annoyed over. Let them have that moment. It may be all they have.
This is what bullying is, my friends. A sense of such deep powerlessness, such an absolute inability to exert control over one's own life, that the only way to feel powerful is to force someone else's life to revolve around yours for a moment.
Bullying takes the form of body shaming, especially directed at women, every day and in every way. We are bombarded relentlessly with messages that our bodies aren't good enough, that we aren't 'real women' if our bodies don't conform to culturally acceptable standards, that in order to be desirable we must change things about our bodies, that our natural shapes are unnatural and flawed. This is the message portrayed by the media because, as I said in my interview with Radical Hateloss, "I don't think our culture wants any of us to be happy with ourselves, ever. When we're happy with ourselves we stop buying useless crap, and start thinking critically about cultural values and expectations. No one gets rich off people who think critically." The torch is then picked up and carried by people who've bought into the cultural mythology of 'appropriate femininity' (or masculinity, because men are targeted by these same cultural influences), by people who are, in essence, tools of the system. The sense of powerlessness they feel over their own lives gives the act of shaming other people's bodies the false appeal of power. For one brief shining moment, not only is another person's life forced to revolve around theirs, but their behavior is actually reinforced by cultural conditioning. Oh, it feels so good.
I've been the target of regular body shaming for many years. As a child, I was too fat and too tall. As a teen and adult, I was too fat, too tall, too broad shouldered, and too flat chested. Not appropriately feminine. Add in a strong jawline and a short haircut, and you can imagine the insults leveled at me over the years. Now that I'm not fat any more, I'm too lean and too muscular. My shoulders are still too broad, my jaw still too angular, my hair still too short, my boobs still too small. I'm not a real woman (never mind the two babies I grew in my uterus, delivered through my vagina, and nourished with my breasts). These are not new insults to me. My body has ALWAYS been deemed unacceptable by the system, and by the tools of the system. They are like a broken record.
I suspect most women reading this are nodding their heads, because no matter WHAT your body is shaped like, you've been told it's unacceptable. Am I right?
Body shaming is our culture's way of stripping us of our power. When it's practiced by other people, it's their way of feeling powerful for one brief moment. But it's not real power.
Real power is the ability to affect your OWN life in positive ways. Real power has nothing to do with other people. The person making me wait while they're crossing the street doesn't have real power. They aren't making their own life better. Real power is the realization that you're just fine the way you are, that you're not flawed, that you don't need to change, that you can direct your OWN path and define your OWN identity. That you can make your own life better. You can. You have that power.
And for the bullies, the body shamers, the tools of the system. They get their one fleeting moment of false 'power'. And the targets? We go back, after that one brief moment, to the people who love us, to the things we choose to do that make our lives meaningful, to the richness of the good works we create in the world. To a life of value. With the knowledge that we possess the power to make our own lives better. That's the real power. And you have it, and no one can take it away.