Adrenal Fatigue is a very trendy diagnosis in the alternative health industry right now, and I'm seeing more and more clients who come to me having previously been diagnosed with it. I've noticed a troubling pattern that deserves to get some air time, so I'm talking about it here.
First I want to talk about what I consider to be one of the most disturbing aspects of the fad diet industry, because it is relevant to the discussion I want to have about Adrenal Fatigue. That aspect is the claim that 'calories don't matter'. There is a strong aversion to discussions about calories in the fad diet industry, and there are some valid reasons for this. The trend away from a focus on calories and toward a focus on food quality is not inherently negative, food quality is important, and can make a HUGE difference in health and weight loss outcomes. The focus on food quality is also good from a policy and social perspective, as improving the food system will have far reaching positive effects on our health, economy and environment. The focus on food quality is good!
However, a lot of gurus have taken this to an extreme and created a mythology that calories are irrelevant, and counting, tracking, or otherwise being aware of calories is dumb. Sometimes this works, as there is certainly a category of people for whom simply improving diet quality will lead to improved health and weight optimization. Unfortunately there is also a a rather large category of people for whom a hyper-focus on food quality, and a resistance to acknowledging the relevance of calories, can, and DOES, have a disastrous effect. And it's probably not the group you think I'm going to talk about.
Many of the people who find themselves drawn into novel dietary philosophies are those with a long history of weight fixation, restrictive eating, and a generally disordered relationship with food and eating. These people have lost the ability to accurately guage their hunger and satiety signals, and they are usually conditioned to feel guilt and shame for eating. Imposing further dietary restrictions on these people, as most dietary philosophies do, while ALSO telling them that calories don't matter and counting calories is dumb, leads inevitably to a situation I'm seeing more frequently in my practice: people existing in a state of chronic semi-starvation. They may fill their plates up with protein and vegetables (ie, low calorie, highly thermogenic foods) and believe they are eating 'a lot', but they are, in reality, shorting themselves of the calories their bodies need in the order of hundreds or even thousands of calories a day.
I recently saw a picture on facebook of a health personality's breakfast. It was one egg, a few bites of meat and a small serving of vegetables. The person who posted the picture claimed that this was enough food to get them all the way to lunch, because it was 'nutrient dense'. This is true, the food on the plate was nutrient dense, but when I calculated the calorie content of the meal it worked out to less than 300 calories. The human body does not run on nutrients, it runs on calories. We need nutrients to support repair, keep us healthy, synthesize hormones, etc, but our bodies expend energy supporting the processes of life (digestion, heart beat, brain activity, etc), and our bodies expend energy through physical activity and exercise. The energy our bodies use is measured in calories, and calories matter. We know they matter when you're getting too many, but they especially matter when you aren't getting enough, when your body is using more energy keeping you alive than you're consuming through food. And one of the things I'm seeing more and more is people literally starving themselves in the pursuit of optimal health, and receiving reinforcement for it from their gurus and friends because they're eating the 'right' foods and not counting calories.
What happens when a person consistently consumes fewer calories than their body requires to support their activity and a healthy weight? There's been ample research done in this area, from the Dutch Famine studies, to the Minnesota Starvation Experiment, to more contemporary research on anorexia and bulimia. At first, just weight loss. But then several really negative endocrine adaptations begin to set in. Metabolic processes slow down (and contrary to popular perception, 'metabolism' isn't just how many calories your body burns. Metabolism is every single chemical process of every single cell of your body), organs and muscles are catabolized for their proteins, reproductive functions are shut down, endocrine function is compromised on every level as the body loses it's ability to synthesize hormones adequately, digestive function goes haywire, immunity is suppressed, blood pressure plummets and the body becomes extremely sensitive to cold, brain fog, depression, anxiety and insomnia set in, the subject develops cravings and fixations on food and eating, the body becomes unable to recover from exercise, and more. These are established symptoms of starvation, supported by decades of research.
I found an interesting research study done on high school and college students with a history of restrictive dieting. The researches compared the students' restrictive eating patterns and their physical and psychological symptoms with those experienced by the subjects of the Minnesota Starvation Experiment. Disturbingly, they found that what is considered 'normal dieting' is closely associated with the established health risks of semi-starvation. In other words, these young people who were voluntarily restricting their eating were experiencing the same symptoms as the subjects of the Starvation Experiment.
Here's where I tie in Adrenal Fatigue. A perusal of top google hits for 'Adrenal Fatigue' nets a list of common Adrenal Fatigue symptoms: fatigue, insomnia, anxiety and depression, low blood pressure, cravings, sensitivity to cold, brain fog, digestive issues, reproductive hormone imbalances, poor recovery from exercise, etc. Frankly, the list of Adrenal Fatigue symptoms reads almost word for word like the list of starvation symptoms. In fact, the overlap is so stark that I made a graphic to illustrate it: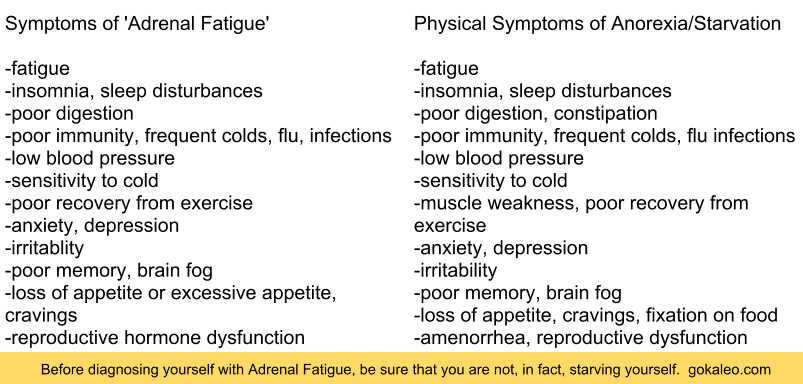 What I'm seeing is a high correlation between dietary restriction (and I'm referring specifically to food group and macronutrient restriction here, not calorie restriction, although one almost inevitably leads to another, even if unintentionally) and Adrenal Fatigue diagnosis. In my practice, I'm beginning to see more and more clients who come to me already having been diagnosed with Adrenal Fatigue and placed on a supplement protocol by an alternative health practitioner. Because ensuring adequate calorie intake to support physical activity is part of my training and philosophy, I frequently have these clients do a 3 day food log, and what I'm finding, over and over, is that these people are consuming starvation level calories (the WHO defines starvation as anything less than 2100 calories a day for men and 1800 a day for women). The quality of their diet is pristine, they are certainly not lacking for nutrients! But they're starving. I convince them to eat more, maybe add back in some foods they've been convinced are 'unhealthy' (like oatmeal, fruit, and other energy dense foods), and suddenly their symptoms begin to resolve.
Am I saying Adrenal Fatigue doesn't exist? Not necessarily. These people are certainly ill. And there are likely other factors that can contribute to these symptoms. What I am saying, though, is that there are an awful lot of people out there who are restricting themselves into illness, and there are an awful lot of gurus who are encouraging this behavior through hyper-focus on food quality and dismissal of the relevance of calories. It is irresponsible. For some people, perhaps MANY people, simply increasing calorie intake is the first and most important step toward recovery. Distressingly though, the Adrenal Fatigue treatment protocols I see being sold on the internet rarely address adequate calorie intake, and in fact frequently discourage any attention to calorie intake while also imposing further dietary restrictions on people who already eat restrictive diets. This is a huge mess people! We're moving the wrong direction! We should be increasing the variety and richness of our diets whenever possible, and ensuring that our bodies are getting not only the nutrients but also the calories necessary to support our activity and a healthy weight.
There's another, even more dysfunctional factor at work. I alluded to it above, women in our culture have been conditioned to associate eating with feelings of shame and guilt. I've run into this on my facebook page and here, I've had several people make up ridiculous rumors about how much I eat and speculate that I must be taking steroids in order to eat as much as I do and not get fat. This is a response I get for eating a healthy amount of food to support my activity and my weight, and for acknowledging in public that I eat that much. Women are supposed to be dainty and delicate and eat like birds, and in popular media women enjoying eating and eating more than a few bites of food are frequently portrayed as undesirable, and presented as comedy. So many of us have internalized these perceptions, and the result is a tremendous psychological pressure to not eat (or at least to not be seen eating), and highly dysfunctional eating behaviors. When you take someone who already has disordered thinking and eating behavior, and impose more restrictions, there's nowhere really to go but deeper into the dysfunction spiral. For many of my clients, the simplicity and pragmatism of meeting minimum calorie requirements is a welcome respite from the emotion of 'good' and 'bad' foods, guilt and shame over eating or wanting to eat 'forbidden' foods, and the sense of powerlessness over weight and body image. Sometimes it really is as simple as 'Stop Starving Yourself'!
Where to go from here? We need to find a middle ground between Food Quality and the Calories-In-Calories-Out paradigm. We need to acknowledge the relevance of adequate calorie intake, we need to disassociate morality from food choices, and we need to move BEYOND the social expectations placed on women to not eat. If we can't do this as a community, we should at least do it as individuals. I've taken a step by being open about my weight and about how much I eat to support it, so that other women can start to recognize that the starvation diets printed in magazines and portrayed on facebook are not adequate, and that healthy women eat healthy amounts of food. I refuse to be shamed for eating, or for enjoying eating, and I invite you to join me. We're fighting for not only our physical health here, but our mental health and our well being. Starvation sucks. Say no, eat the food!