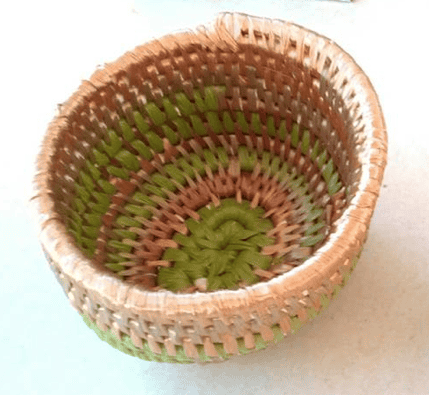 I just got back from a week of camping. I did a whole lot of mostly nothing, which was awesome and just what I needed. I did get a few things done, I read a novel for pleasure (what ), I laid in the sun a lot, I ate food other people cooked (I have no idea what was in most of it, and it was delicious), and I wove a couple baskets.
Let me tell you about weaving baskets. I posted a picture of one of my finished products. It turned out pretty well, if I do say so myself. But if you look closely, you can see that I got off to a rough start. The weaving starts from the center. My first few rows of stitches aren't really even, and there are a couple places I missed stitches all together. There's a big empty spot at about 6 o'clock near the center. About 6 rows of stitches in, I was starting to get the hang of it, and by the time I finished I was practically a pro. But those first few rows are a bit of a mess, and when I was working on them I felt frustrated. I felt like maybe I wasn't any good at this, and I should just quit and find something else to do. I kept going though, and it got easier, and I got better, and after a while the people around me started noticing how well I was doing and complimenting me, and then after a little more time they started asking me for advice.
My mom, who was camping with us, started a basket too. She had the same experience at the beginning. She felt frustrated, and said that her stitches were a mess. She asked me what she was doing wrong. I said "Nothing. Keep going! It gets easier!" She kept at it for a few minutes, but finally the frustration got the best of her and she wandered off and found something else to do.
Changing your eating and moving and living habits are sort of like my experience weaving that basket. It's hard at first, and you make mistakes, and everything sort of looks like a mess. Lots of people get frustrated by the slowness and the mistakes and the start and stops, and believe that they're just no good at it, and quit. But mistakes and slowness and starts and stops are normal, they are part of the learning process. EVERYONE'S basket looks like a mess when they're first starting out. Mine did. Like my basket, my eating did and my exercising did, when I was first starting out. I didn't get it right the first day. There were a lot of days, actually, during that first year, that I thought I was just no good at this, that it was a mistake, that I should quit because I would never get it right. But I kept going, and things got easier, and I got better at it, and after a while people started noticing and complimenting me, and after a little more time people started asking me for advice.
The only thing that really sets me apart is that I kept going, kept making mistakes and learning from them. I didn't let mistakes convince me I was a failure. Mistakes are normal. They are part of the learning process. If I hadn't made mistakes, I wouldn't have learned better ways. Like my basket. When something didn't work, I did it differently the next time, and if that new way worked, I kept doing it. If it didn't work, I tried something else. And after a while I was really good at it, so good that people started asking me for basket weaving advice.
And most importantly, the mistakes, even though you can still see them in the finished product, make that finished product what it is. They add to its beauty and uniqueness. The mistakes are part of the process.
So make mistakes, and learn from them, and enjoy the process.