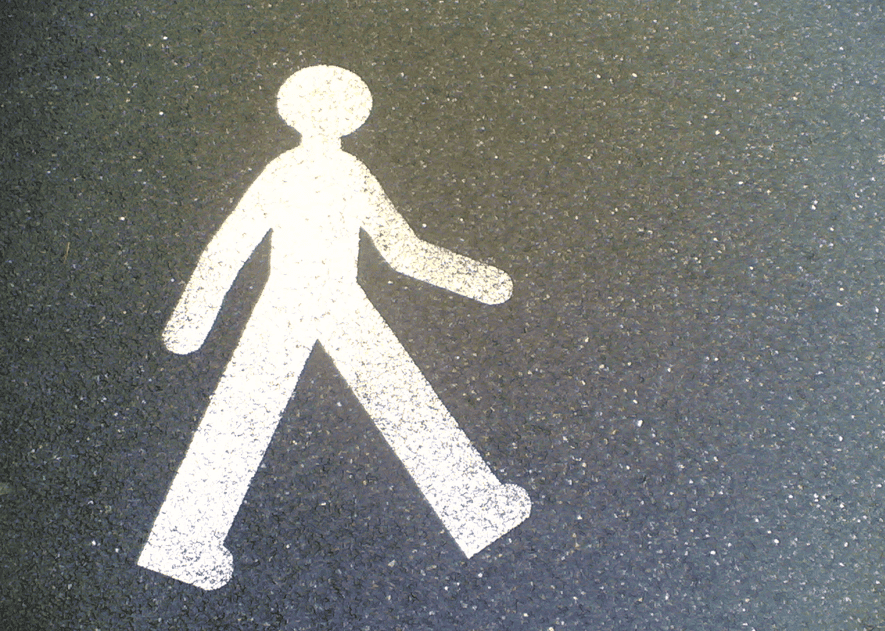 To hear the internet tell it, you need to engage in epic quantities of lung-exploding, shirt-drenching, chest-pounding vigorous exercise in order to reap the health benefits of a fitness program. It can be pretty daunting, seeing impossibly chiseled people on TV executing feats of great athleticism and skill…I remember seeing those commercials and thinking 'well gosh, there's no way I could do that. If that's what I have to do to be fit and healthy, I don't really even see the point in trying."
Of course, I eventually realized that what I was seeing on TV and reading on the internet was pretty extreme, and that I didn't need to go to such lengths to improve my health. But it took me some time to reach that realization. The amount of exercise necessary to experience health benefits is actually fairly moderate and doable, even for those who are very deconditioned, and I don't think that message effectively reaches the people who need to hear it the most. Hence, today's blog post.
Walking is an ideal foundation for a fitness program. I know that can be hard to believe. Walking is easy. We all do it every day. How can it be an effective fitness strategy? First I'm going to give you a brief synopsis of standard physical activity recommendations. Then I'll discuss walking itself, and how to experience the long-term benefits of a well designed walking program.
Physical Activity Recommendations
The ACSM, CDC, NIH and WHO recommendations are all essentially the same (click the hyperlinks to view each organizations recommendations).
To experience the health benefits of exercise, healthy adults should aim for at least:
-150 minutes a week of moderate intensity exercise a week OR 75 minutes of vigorous exercise a week, AND
-2 muscle strengthening workouts a week, working all the major muscle groups
I discuss muscle strengthening workouts in my Taming the Weight Room blog series, so I'm not going to get into that today. Today I'm going to talk about that first part of the recommendations, the '150 minutes of moderate intensity or 75 minutes of vigorous' exercise recommendation.
Walking, yes, simple walking, can more than fulfill that 'moderate intensity' prescription.
Making Walking Count
Walking is such a great starting point because it's familiar. It doesn't require any equipment. It doesn't require any specialized skills. You can fit it into your daily routine almost effortlessly. And ultimately, if you enjoy walking, it can serve as the foundation of your fitness program indefinitely. As your conditioning improves, you can add intensity to your walks and continue making improvements in cardiovascular health and body composition.
The label 'moderate intensity' is fairly open to interpretation by the general public, but there's been some research that helps to define 'moderate intensity' more concretely. There are several ways you can gauge your activity level to ensure you're working hard enough to meet the 'moderate intensity' guidelines.
Counting steps: walking 100 steps per minute approximates moderate intensity (1). While this goal isn't exact, it is a good general baseline. If 100 steps per minute feels easy, go a little faster, If you aren't able to reach a pace of 100 steps per minute, get as close as you can and work toward that goal. An overall goal of 3000 steps in 30 minutes per day, in bouts of at least 10 minutes at a time, is a great starting goal. A pedometer can be a really helpful tool here.
Rate of Perceived Exertion: simply paying attention to how hard you feel you're working can be effective. This is the technique I use most often with my clients as it requires no equipment, and isn't arbitrary like a step count. On a scale of 1-10, or 6-20 (depending solely on your individual preference) rate your level of exertion so that 1 (or 6) equals sitting motionless in a chair and 10 (or 20) equals 100% effort, the hardest you are physically able to go. I have my clients work at a 4-6 (or 10-14) if 'moderate intensity' is their goal. Heart rate will be elevated and breathing will be faster, but you should be able to carry on a conversation without gasping for breath at this intensity.
Heart Rate Monitoring: this one requires some math, but it allows for differences in fitness levels. To meet the 'moderate intensity' threshold, you'd be working at 50-70% of your maximum heart rate. To determine your approximate maximum heart rate, subtract your age from 220. For instance, I'm 40, so my maximum heart rate would be 180 beats per minute. To work at a moderate intensity, my heart rate would need to be between 90 BPM (50% of 180) and 126 BPM (70% of 180). Monitoring my heart rate periodically during my workout, either with a heart rate monitor or by taking my pulse, helps me stay within that range and ensures I'm working hard enough to experience the benefits.
Pace: in a study of recreational walkers, self-selection of a 'brisk' pace worked out to an average of about 3.5 miles per hour (2). This correlated with an intensity that met the 'moderate intensity' guidelines. If 3.5 mph feels easy to you, go a little faster, and if it's too hard, get as close as you can and work toward that benchmark.
Progression
Ok, so walking is a great way to start a fitness program. But eventually you have to start running ultra marathons or crossfitting or something, right?
No.
Walking can be your foundation for the rest of your life, if that's what you enjoy. As your fitness level improves, there are lots of ways you can add variety and intensity to your walking workouts!
Increase duration: this is pretty simple. As your fitness level improves you will be able to walk for longer periods of time. Aim to increase your workout length by 5-10% a week, until you reach the 30-60 minute recommendation (and beyond, if you want!).
Increase pace: again, pretty simple. Increase your speed, taking more steps per minute.
Add weight: adding a weight load is one way to increase the intensity of your walks. In fact, for people who are limited in their ability to increase their pace, adding weight is the go-to, even from the beginning. A weight vest is my first choice for my clients, as it leaves hands free and is comfortable and adjustable, but a homemade version such as a backpack loaded with books or rocks is a perfectly acceptable substitute. Start with adding 5% of your body weight and work up to 20%. Carrying hand weights is another viable choice. Avoid ankle weights, as they increase the risk of repetitive use injuries.
Walk on an incline: for those who can't increase walking speed, and those with joint problems, walking on an incline is a great alternative to increasing pace. Find a hilly route, or walk on a treadmill set at a moderate incline, increasing the incline as your conditioning improves.
Add intervals: alternate easy walking with fast walking, or walking on an incline with walking on a level surface. There are many interval formats you can use here! Go easy for 2 minutes than hard for 4. Or vice verse. Or 30 seconds and 90 seconds. Or 1 minute and 1 minute. Or go for distance: go hard for 200 meters, then easy for 200 meters. Or do fartleks: vary your pace and intensity as you wish, make it up as you go along. The possibilities are endless.
With creativity and proper modifications, walking can serve as the foundation of your fitness program for as long as you desire. Walking is inexpensive, it requires no special equipment or skill, and it is an easy form of exercise to do with others, creating a social as well as physical experience. Our bodies are ideally adapted to walking, and research has shown again and again that walking can improve cardiovascular health, lower diabetes and obesity risk, and even aid in the treatment of arthritis and other musculoskeletal diseases (3, 4, 5). It isn't sexy or rapid or extreme (the things that sell diet books) but walking works. It works really well, and it can work for your whole life. So if you enjoy walking, by all means DO IT! '?