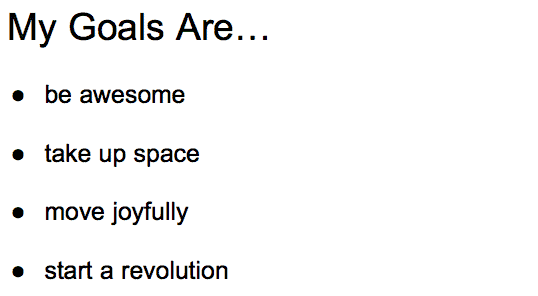 It's that time of year again! When we take stock of our failures and shortcomings and resolve to do better in the new year!
Just kidding. Some people do that but I sure don't, and I hope you guys don't either.
It's hard not to get caught up in the spirit of fresh starts and renewed motivation though, and those things aren't bad at all! So if you're taking the beginning of the new year as an opportunity to make some new goals and commitments, here are some tips for maximizing your chances of success.
1. Be realistic.
Set goals that will work with your schedule and lifestyle. Do you work full time? The time commitment involved in training for an Ironman Triathlon probably won't work with your schedule. But a Sprint or Oly triathlon could. This seems like a no-brainer, but I think lots of us fall into the trap of biting off more than we can chew, and then getting discouraged when we aren't able to meet our own high expectations. Discouragement tends to translate to giving up. Set yourself up for success by setting achievable goals in the short term! Succeeding will bolster our confidence and motivate you to set more goals.
2. Be specific.
We tend to make fairly vague resolutions like 'lose weight', 'get in shape' or 'eat healthier'. Nebulous targets like this don't provide much structure though, and are easy to veer away from. Make a specific goal like 'lose 30 pounds', 'exercise 3 times a week for 40 minutes' or 'eat 5 servings of vegetables a day'.
3. Make a plan.
Once you have a specific goal, outline a plan to reach it. Give yourself a realistic time-frame, and work up to your goals over time!
4. Plan in steps.
Jumping right in to new behaviors can be overwhelming and exhausting. If your goals is to exercise 3 days a week for 40 minutes, start with 10 minutes twice a week and add duration over time. If it's to eat 5 servings of vegetables a day, start with 1 or 2 servings a day and work up. Drastic, sudden changes are less likely to become habit than small, sustainable changes that compound over time.
5. Monitor your progress.
Keep a journal of your success! Track weekly or even daily to document the challenges you've met and overcome. Seeing your progress in this objective manner can be very motivating. We tend not to notice our progress as much subjectively, as changes happen slowly and we get used to them and don't recognize how profoundly those small changes add up over time.
6. Be flexible.
You may hit a roadblock you can't figure out how to overcome. Having the flexibility to alter your plan and goal will allow you to navigate challenges and roadblocks without feeling like you've failed. For instance, if your goal is to run a 5k, but you injure your foot, being flexible to change, rather than quit, your training to allow your foot to heal will help you maintain your cardiovascular conditioning and endurance.
7. Allow for setbacks.
Bad news. Sometimes things don't work out as planned. Sometimes we just miss the mark. It happens. It happens to everyone! Re-framing setbacks as learning opportunities, rather than failures, keeps you on the road to success.
8. Focus more on how far you've come, and less on how far you still have to go.
If you've set a lofty goal, sometimes fixating on how much further you still have to go to meet it can feel overwhelming and discouraging. Recognizing and celebrating each success can remind you how capable you are. It may take time, but you will get there if you keep moving forward. Getting mired in frustration over the pace of your progress won't help at all. Focus on the positive! Keep going! You'll get there in time.
9. Enlist social support.
Seek out a supportive community to cheer you on (my Eating the Food, and Healthy Weight Loss diet recovery facebook groups, for instance!) One of the blessings of the internet age is that finding people with similar goals and interests is as easy as typing a few words into a search bar. Follow supportive people on twitter and facebook, find chat rooms and forums with relevant themes and find people locally who have similar interests. The other side of this coin is that it's easy to get caught up with people who will try to tear you down and undermine your progress. Be aware of the way people talk to you, and remove yourself from negative situations and people. They will not help you.
10. Be patient!
I saved this one for last, because it's not only the most important, but the hardest. Humans want what we want NOW. Being able to step back and apply patience objectively is a skill that must be learned through practice. Remind yourself that changes happen slowly over time sometimes. That doesn't mean they are not worthwhile or profound. Patience is a superpower, and many times it is THE factor that will determine success or failure. Practice every day.
One of the most important things I've learned over the last several years is how fundamentally important it is to zoom out and take a more reasoned, balanced approach to behavior change. Trying to CHANGE EVERYTHING all at once rarely works out well, and expecting things to always work according to plan is a recipe for disappointment. Humans, and life, are imperfect. Take the long view, worry less and enjoy the moment more. As long as your trajectory is forward, you'll get there eventually.
Need some ideas for reasoned and balanced approaches to behavior change? Here's my top three 'Resolution Suggestions':
1. Learn to cook, or cook better.
Preparing more of your meals at home is the best way to improve the quality of your diet. Our culture has lost touch with food and food preparation in the last few decades. For many people, this means either re-learning how to cook, or completely starting from scratch. I had to change the way I thought about and prepared food when I began making changes to improve my health. I relied on watching America's Test Kitchen on PBS and Cooking Light magazine to learn cooking skills and cookbooks like Super Natural Cooking for ideas to incorporate more fresh foods into my diet. If I were learning to cook now, I would take advantage of Smart Kitchen, an online cooking school that is available as a monthly subscription – allowing the user to pick and choose lessons at every skill level.
2. Walk more.
It really doesn't get simpler than walking. People underestimate the power of walking to improve health, quality of life and fitness level. Read my blog post on Walking for Health and Fitness to learn more about how powerful can be, and how to create a walking-based fitness program. Pick up a pedometer or fitbit to see how much you're currently walking and make reasonable, sustainable changes that will dramatically improve your quality of life.
3. Get more, and better, sleep.
Most of us don't get enough and it manifests as weight gain, illness and decreased quality of life. A few simple changes can improve the quality of your sleep, and your life. Turn off electronics an hour before bed, get some natural light early in the day, and reduce your consumption of caffeine and other stimulants later in the day. If you still struggle with insomnia, I highly recommend The Promise of Sleep by Dr. William Dement to get a handle on what may be causing it and finding resources to resolve it. Improving sleep quality may be the single most powerful change you can make to improve your health.
New Years' can provide inspiration and motivation for making positive lifestyle changes, and stepping back and taking a sustainable approach can help ensure that those changes are successful and long-term. Small changes really do compound over time, and if you're able to stay the course you will be able to look back next year and see just how much you've accomplished. 2014 is going to be a great year!