Some people just REALLY don't want to believe I eat 3000 calories a day. Most of the people who accuse me of lying fall into one of two categories: low-carbers or misogynists. Frequently both, as the two seem to overlap with laughable regularity.
The most recent example is one well known douchebro who, upon reading my recent facebook post about how much I eat, declared: "So she eats more than an average male who outweighs her? Bullshit."
Do you even Mifflin St. Jour, bro? Also, I maintain a higher amount of lean mass than the average man my height and weight. I know this is an emasculating concept for men who base their own self worth as a man on how much muscle they have. Sorry bro.
The Mifflin St Jour equation has been shown in studies to be the most accurate predictor of Resting Metabolic Rate of all the most commonly used equations. It's also the equation I was taught to use in my Personal Training and Health Coaching certification courses. When I run my numbers through the Mifflin St Jour equation, it gives me an estimate of between 2800 and 3200 calories to maintain my current weight, depending on a couple variables. Here, I'll show you, using an online calculator that bases it's estimates on the Mifflin St Jour equation*.
When I program in my height, weight, activity level (although I don't exercise excessively, I do have a a physically demanding job – I'm a massage therapist and personal trainer) and gender, it gives me an estimate of over 2800 to maintain: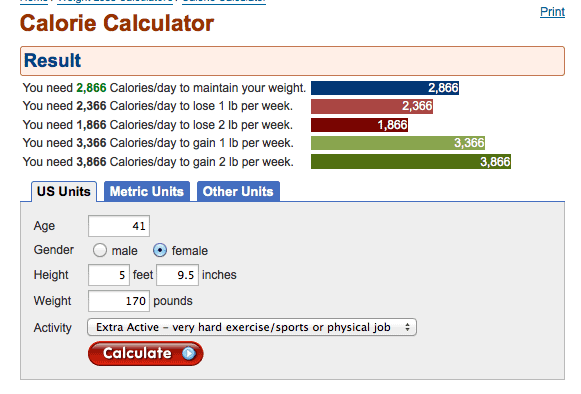 But remember, I have a higher than average amount of lean mass – in fact, at sub-20% body fat I have more lean mass than the average man my height and weight (the average American male is 28% body fat, sorry bro). In fact, at roughly 140 pounds of lean mass, I have as much lean body mass as an average American man of 195 pounds. So when I switch the gender, causing the calculator to factor in a higher level of lean mass (a more accurate amount of lean mass for me), I get an estimate of almost 3200. See?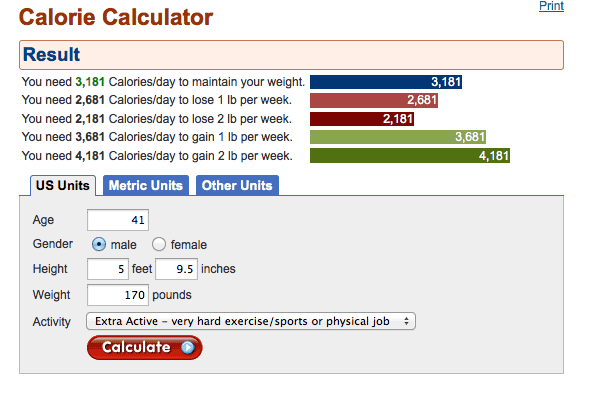 So yes. I eat as much (if not more) than an average man who outweighs me. Because I'm MOAR MUSCULAR than an average man who outweighs me. And because I'm, you know, not as sedentary as an average man who outweighs me.
Science says 3000 calories a day is a perfectly reasonable and appropriate amount of food for my height, weight and activity level. #ScienceBro
_________________
I chose this calculator for this blog post because it's based specifically on the Mifflin St. Jour equation, not because I think it's better than the other calculators I've linked to on my blog.