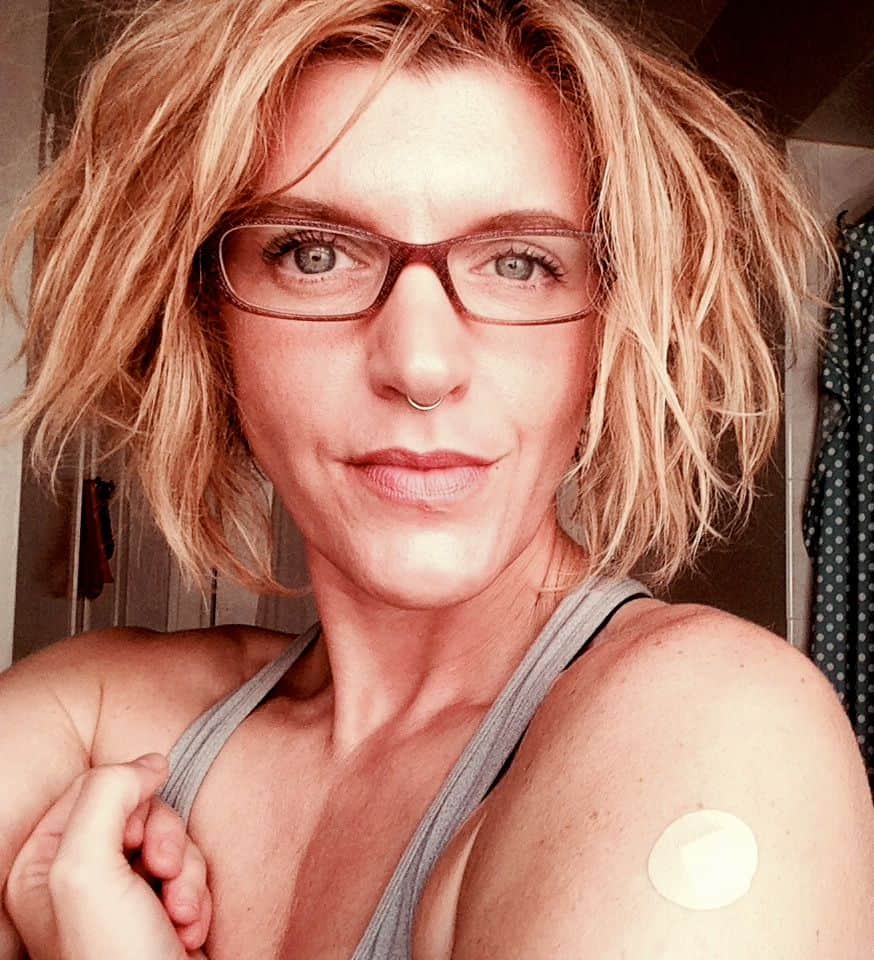 Vaccines in general, and especially the flu vaccine, are a hot button these days. I posted on facebook that I'd gotten my annual flu shot and the response was predictably contentious. One guy even ridiculed my appearance. Predictable trolls are predictable.
I used to be anti-vaccine. Especially the flu vaccine. I could be obnoxious about it. Thank goodness it was (mostly) before facebook, or I'd have an online history of anti-vax 'activism' to be embarrassed about. In a follow up post, I shared the story of the first time I actually got the real flu:
"I used to wonder why people got so worried about the flu. I'd had it a few times and my healthy adult immune system had fought it off efficiently. Why all the hype about flu season and flu shots? What the heck was the big deal? I was pretty obnoxious about it.
And then the year I was 30 I got the flu for real. And as I crawled down the hall one morning (because I wasn't able to walk, or even stand up) to ask my husband to take me to the emergency room, I was humbled by the realization that all those flus I had arrogantly told myself my body had fought off were really nothing more than bad colds."
These days, I get my flu shot every year, and my kids are fully vaccinated. My experience with the real flu is only part of the story. In fact, it's a very small part of the story.
The real reason I get my annual flu shot has nothing to do with me as an individual, and it has nothing to do with the individuals I may otherwise expose to the virus. I get the flu shot because I am a member of a civilization. A civilization that I benefit from in a multitude of ways. I have an obligation to keep that civilization healthy and productive in any way that I can. Because a healthy, productive civilization is of enormous benefit to me and my family. I am not an island. I am an intrinsic part of this civilization, and my actions matter to the health and productivity of that civilization. .
Let me explain, using an analogy most people are very familiar with: traffic.
Traffic laws are in place to keep traffic moving as efficiently and smoothly as possible, and to keep motorists safe. Traffic laws are not a 'conspiracy' to restrict individuals' freedom. Traffic laws help everyone get where they are going as quickly and safely as possible. The more people that respect traffic laws, the more easily everyone can move from place to place, and the safer we all are. I think almost everyone can agree on that.
Some people don't understand the big picture that traffic laws represent. They think "I'm just one person, what I do doesn't matter in the grand scheme of things. I'm just going to break the law here. I'm just one person! What harm can it do?" And it's true, that on an individual level, one person's actions have a very small effect. Unfortunately, that one person's actions can influence other people's actions. And when other drivers see that person breaking the law, they think "Well, he's doing it, I might as well too." And soon, lots of people are breaking the law, and things get more and more chaotic, and bottlenecks happen, and EVERYONE gets slowed down, and the risk of accidents increases for EVERYONE. And as more and more people break the law, breaking the law becomes normalized, and the laws begin to not matter at all, and respect for the laws diminishes, and chaos reigns. Hello traffic jam. Hello accidents.
If everyone would just follow the laws, things may be a little slow, but they'll be way less slow than the mess that occurs when some people think the laws don't apply to them.
Vaccines aren't laws, and they won't likely ever be. But the ARE recommended by every reputable public health agency. And ultimately, those recommendations aren't really to protect INDIVIDUALS. Yes, getting vaccinated will greatly reduce your individual risk of contracting a preventable disease, but at the end of the day, vaccines aren't there to protect YOU. They are to protect the civilization. The more people that comply with vaccine recommendations, the more the civilization is protected from disease. The less chance the disease has of finding a host, and over time the disease dies out. We saw it happen with smallpox and polio. Those diseases are gone. No one has to worry about them any more, not even people who aren't vaccinated, because enough people followed the recommendations to eradicate the disease on a civilization level. Just as compliance with traffic laws keep everyone moving more quickly and safely. We see some people these days believing that vaccine recommendations don't apply to them as individuals, that their individual actions don't matter. The result is that some previously eradicated diseases are making a comeback. Whooping cough, measles. And it's not always the people who make the decision not to vaccinate that pay the price. Many times, it's infants who are too young to be vaccinated. Just as the individual who breaks a traffic law may not be the one who gets in an accident or who gets slowed down by traffic. Often it's people down the line who pay the price of one person's decision not to obey the law, especially when that one person's actions contribute to a larger, more systemic pattern of behavior.
Several people linked me to this Cochran Review of the scientific literature on the flu vaccine. They seem to have focused on this specific conclusion as evidence that the flu vaccine is ineffective:
"The preventive effect of parenteral inactivated influenza vaccine on healthy adults is small: at least 40 people would need vaccination to avoid one ILI case (95% confidence interval (CI) 26 to 128) and 71 people would need vaccination to prevent one case of influenza (95% CI 64 to 80)."
What this means is that 40 people need to be vaccinated to prevent one case of 'influenza like illness' and 71 need to be vaccinated to prevent 1 laboratory-confirmed case of influenza. Oy, that seems depressing, doesn't it? Maybe the flu vaccine really IS ineffective?
Lets do some math. If 40 vaccines prevent 1flu-like illness, then 240 million vaccines would prevent 6 million flu-like illnesses. 240 million is equal to 75% of the US population. So, if 75% of the US population gets vaccinated, we collectively prevent 6 million flu like illnesses. If 71 vaccines prevent 1 laboratory confirmed case of flu, then 240 million vaccines will prevent 3.4 million cases of laboratory confirmed flu.
Neither 6 million nor 3.4 million is insignificant, especially to the people who can't get vaccinated due to allergies or age or previous reaction.
The flu vaccine isn't ineffective. It simply takes a high level of compliance, on a civilization scale, to realize the enormous benefit. What the Cochran Review actually shows is what public health agencies have been saying for decades: participation is important to protect our society.
The more people that are vaccinated, the more protected our civilization is.
Just as the more people that follow traffic laws, the more quickly and safely we all get where we are going.
I choose to be on the team that is preventing millions of illnesses, just as I choose to be on the team that is keeping traffic moving quickly and safely.
I can get vaccinated, so I do, thereby protecting those who can't. And contributing to a healthier civilization.
Getting vaccinated isn't about me. It isn't even about the people I come in direct contact with. It's about being a part of a group, and contributing to the welfare of that group in any way I'm able. And in return, I receive numerous benefits: safety, resources, companionship, opportunities, education and more.
I get vaccinated for the same reason I follow traffic laws and pay taxes and return my shopping cart to the corral when I go to the grocery store. A little bit of inconvenience on my part keeps the system running smoothly. And I receive enormous benefit from a smoothly running system.
There were a couple other conclusions from that Cochran Review, including:
– "The administration of seasonal inactivated influenza vaccine is not associated with the onset of multiple sclerosis, optic neuritis (inflammation of the optic nerve of the eye) or immune thrombocytopaenic purpura (a disease that affects blood platelets)." (no indication that the vaccine causes MS or other conditions)
– "Evidence suggests that the administration of both seasonal and 2009 pandemic vaccines during pregnancy has no significant effect on abortion or neonatal death." (looks safe for unborn fetuses)
I really liked this interview with Eula Biss (author of 'On Immunity: an Innoculation') on this topic. She has an eloquent way of explaining this complicated reality in simple words.
I also appreciate this essay in Scientific American on "The Ethics of Opting Out of Vaccination".
You can learn more about this year's flu vaccine here and here.
And because the anti-vax movement is nothing if not predictable, let me state definitively here: I am not a 'shill' for 'Big Pharma' or 'Big' anything. No one is paying me to post this. I do not gain any benefit from this post other than promoting public health, which, as a member of the public, directly benefits me in many ways.