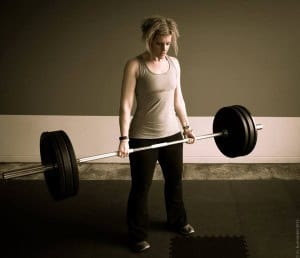 You guys know I've been dealing with chronic pain for a WHILE. Seven or eight years, actually. It started with an injury in '07, I slipped on a wet sidewalk and dislocated my kneecap. It healed, but a level of pain remained, and it was actually one of the reasons I started exercising. Exercise was my primary (and only) pain management tool for several years, until I needed to add pain medication to the mix as well. Over the last year, the pain has worsened to the point that I've had to gradually cut back on the amount, kind, and intensity of exercise I've been able to do. It ultimately got so bad that a month ago I had surgery, to remove some bone fragments that had dislodged when I dislocated it and have been floating around causing trouble all this time, as well as some bone spurs and scar tissue. And so, for the last month, I've basically been sitting or lying down most of the day as I recover from surgery.
The result? I'm not in the kind of shape I was in even a year ago. One of the pain meds I have been using produced a 10 pound weight gain, and I went into the surgery a little worried that the complete inactivity required for recovery would cause even more weight gain. When I expressed my relief on my Facebook wall that the eating habits I've established over the last 8 years helped me maintain my weight in spite of not being able to exercise (whew!), a couple people got mad at me for it. I'm supposed to be body positive, they said, I shouldn't worry about my weight! One person crowed happily that I'd probably gained fat and lost muscle. I responded that I'm sure I have. I can see in the mirror that I'm softer and curvier, and I know I'm not as strong. This I am actually ok with, I like my body this way, and I like my body when it's more muscular. Turns out I just like my body. Go figure!
But I do worry about my weight. I have a history of obesity, and health problems stemming from it. I also worry about not being active. Inactivity isn't good for me. My blood sugar gets wonky, I get anxious and depressed, my migraines might come back, I'm just not as happy when I'm not getting my exercise.
So, while I'm relieved the eating habits I've built have kept me from gaining weight, I know that it's important that I get active as quickly as possible (mindfully of my recovery from surgery, of course). My exercise habits have suffered, due to circumstances beyond my control. It's time for me to start rebuilding those habits. And those habits may look different post-surgery than they did before.
So, it turns out I am human. It turns out life happens, and I have to be flexible. It turns out that sometimes, circumstances beyond our control can require us to change our behavior and build new habits.
And so, I'll be participating in the new Habit Project On-Ramp program not just as a coach, but as a team-mate. I'll be working on the habits right along with everyone else. I'll be checking in daily with encouragement as a team mate, but also with support as a coach. I'll be getting to know this group in ways I haven't had the chance to get to know our other groups. I'll be challenged, and struggle, and succeed right along with you guys. AND IT'S GONNA BE AWESOME.
Want to start this crazy journey with me? Or heck, just watch me flail a little and be human? Check out the program. I think it's gonna be pretty powerful.