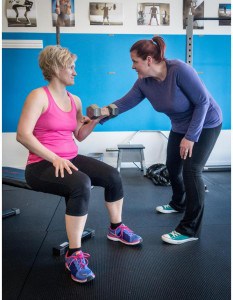 The Body Positive Fitness movement is growing. More and more fitness professionals are realizing the value of this approach to coaching, and more and more individuals are being drawn into fitness for the first time by this brand new way of approaching fitness and health. The focus on quality of life rather than appearance is changing the climate of the fitness industry, and it is exciting!
There's something really important I have to say about it though.
We MUST leave the pseudoscience and woo behind. That bullshit has to stay with the old fitness industry. The Body Positive Fitness industry we're building needs to be evidence based, and STAY evidence based.
What pseudoscience do you mean, Amber you may ask? There is so much. Oh my god, so much. I can't list everything, so I'll share some of the most egregious examples. Fake diseases like adrenal fatigue, candida overgrowth, "broken metabolism", and leaky gut. Most supplements. All MLM products. Fad diets. So. Many. Fad. Diets.
WHY do we need to leave the pseudoscience behind? Don't some people like it? Doesn't it work sometimes, even if it's not supported by science? Placebo is powerful after all! What's the harm, Amber'
The HARM is that when we use these non-evidence based products, diets and practices on our clients, we are essentially experimenting on them.
And experimenting on our clients is disrespectful. Come on people! Stop experimenting on your clients!
RESPECT for the bodies of our clients is the core value of Body Positive Fitness. We put that respect into action by grounding our coaching in proven, established, evidence-based practices. We do NOT subject our clients' bodies to unproven techniques and fantasy-based diets. I mean, best case scenario, nothing will happen. Your client spends a lot of their money on magical pills and potions and nothing happens. Worst case scenario, though, is that you hurt or even kill someone by making unproven, fantasy-based recommendations.
Do you know what drives the use of unproven techniques and fantasy based diets? Ego. The ego of a coach who thinks they know more than the kinesiologists, doctors, dietitians and scientists who develop standards of practice and nutritional guidelines. The opposite of evidence-based coaching is EGO-driven coaching. I see it all around me, douche-bros who belittle women for having the wrong kind of body, coaches who use crystals and herbs to treat their clients' adrenal fatigue, gurus who tell their fans that they got their abs from isagenix (and not the combination of genetics and calorie restriction that is reality), trainers promoting paleo or low carb or vegan diets…EGO. These coaches are basing their recommendations on EGO. Not evidence.
Sometimes a person will come to my page or group with some beliefs they've gotten from a coach or trainer – beliefs that are inaccurate. That carbs are evil for instance, or that paleo is the ideal human diet, or that they have adrenal fatigue, or that they need to buy shakeology to succeed, etc. And they sort of look foolish to the people in the group, because they believe the bullshit they are spouting. But it's not really their fault. Someone they looked up to, someone they PAID, taught them bullshit. Someone they trusted with their health taught them bullshit. THAT is what Body Positive Fitness MUST LEAVE BEHIND.
People trust us with their health. We can't teach them bullshit. We can't make them look foolish. Let 'professionals' from the OLD fitness industry do that to their clients. Not us. No.
Body Positive Fitness Professionals need to stick to evidence-based practices. It is the way we put Body Positivity into practice. We respect our clients' bodies by not subjecting them to unproven methodology. We respect our clients' bodies by basing our coaching practices on evidence, not our egos. We respect out clients' bodies by not gambling their health on something that might or might not be true, by not experimenting on them with new fad diets and supplements.
Join the revolution. Leave the bullshit behind. Whether you are a fitness professional or an individual getting active for the first time, there is a place for you in the Body Positive Fitness movement.'?And some day, there will be enough of us to completely shut down the old, ugly, shame and ego based fitness industry of before, and all there will be will be the awesome evidence and JOY based fitness industry of the future.
Image courtesy of Real Body Stock Fitness Photos