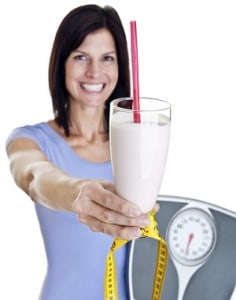 Muscle Milk, AdvoCare, Isagenix, Shakeology, Body By Vi, MetRX, MetaboLife, HerbaLife, Slim Fast, EAS…every fitness professional seems to either have their own line of meal replacement products, or be part of a supplement and meal replacement Multi-Level Marketing company. Type the term 'weight loss' into google and you'll be served hundreds of websites hawking all kinds of shakes and potions promising quick weight loss, faster muscle building, improved health and even income opportunities. It's obviously a HUGE industry, and people are buying it up to the tune of billions of dollars a year in the US alone.
The first thing everyone needs to understand about meal replacement products and other supplements is that they are the big moneymakers in the fitness/weight loss industry. That's why everyone is selling them. They're inexpensive to make, require very little time and energy investment by the seller, and appeal to human nature's desire for immediate gratification. In other words, they're an easy sell, especially to a demographic that is desperate for a magic pill.
There's very little difference from brand to brand. Some make claims of using higher quality or 'natural' ingredients (the term 'natural' is totally unregulated and can mean pretty much anything the marketer decides they want it to mean), others cite studies that show their product outperformed similar products (generally funded by the manufacturer of the product), there are minor differences in macro and micronutrient profiles from brand to brand. Overall however, most meal replacement products are more alike than they are different.
So what's my opinion? It's no secret that I believe we should be getting our nutrition from mostly real, whole foods. However, meal replacement products DO offer a measure of convenience that can't be denied. Running around all day and don't have the time to sit down to a full meal? A meal replacement shake or bar can come in handy here, to give you the calories and macronutrients of a full meal in a convenient and portable package. Maybe you're having trouble getting enough protein through food alone. A protein shake can help you meet your protein requirements while you're working on getting your diet dialed in. So meal replacement products can be useful tools to take advantage of when you can't get what you need from food for one reason or another.
HOWEVER. Meal replacement products are not superior to real food. There is not a single nutrient in any meal replacement product that can't be better utilized by your body when it comes in the form of a whole food. These products, by their very nature, are refined and processed, and usually shipped long distances and stored for months or years before being consumed. A rich and varied diet of mostly real whole foods, especially ones sourced locally so as to be at their peak of freshness, is better for your body. Most of these products are marketed as the 'foundation of a healthy lifestyle' which implies that you will be using them for the rest of your life. In my opinion, the foundation of a healthy lifestyle isn't any specific product, or nutrient, or diet. It is the ability to think critically about where you food is coming from and how it affects your body, and the ability to create balanced meals that meet your goals and nutrition requirements, using foods that are relatively easy and cost effective for you to acquire. Meal replacement products do not support either of those goals, rather, when used as the manufacturers WANT you to use them, they create dependence and inflexibility.
I am not against the use of meal replacement products. In fact, I use them myself. The key, though, is to view them as a tool, a useful backup, NOT as the foundation of your lifestyle. If you would like to include a meal replacement product in your 'toolbox', here are my tips for choosing one.
1. Read the ingredients! Don't take the front of the package, or even the person selling the product, at face value.
2. Find an organic one, if possible. Buying an organic product will help ensure that you're not getting your nutrients from GMOs (if you're concerned about those). If the product contains animal foods, it will help ensure that you're not getting artificial hormones, antibiotics, and other less optimal substances that are ubiquitous in our food supply.
3. Look for one that is either unsweetened, or sweetened with stevia if you don't want to add extra calories (although calories are not a bad thing!). Artificial sweeteners bring their own set of issues, so be aware if you're concerned about these.
4. Look at it's fat sources and fat profile. Does it contain refined seed oils like soybean, corn or safflower? Emergent research is beginning to suggest they may be harmful. Better fat sources: hemp, chia, flax, and coconut.
5. Look at the protein source. Is it derived from something you'd eat 'in real life'? Whey is the most common protein source. Some brands use organic whey, which is great. A few select brands even use whey from pastured, grass fed cows. That's even better! If the product uses soy, is it organic? If not it's probably GMO, which is a concern for some. There are plenty of other non-soy plant based proteins, look for organic if you want to to avoid GMO, and sprouted to increase digestibility.
Finally, and most importantly, just think critically about the claims the product, and/or the person selling it is making. Humans thrived for millions of years before supplements and meal replacement products were invented. If they were necessary for muscle development, increased strength, weight loss, or optimal health we would have died out a million years ago. These products are convenient and practical, but not necessary or optimal.
As far as single supplements, I usually tell people they are only necessary if your food log or a blood test indicates a deficiency. If you are wondering if you need to supplement, or if a supplement might improve your performance or health, my friend Sol from examine.com has put together an exhaustive review of the science supporting (or in most cases, not supporting) various supplement products. Don't go to the supplement counter without it!