My name is Go Kaleo and I'm about to turn 40 years old. I've given birth to two babies. From the age of 8 until I was 35, I struggled with my weight, yo-yoing up and down between obesity and 'merely overweight'. Here's what I looked like a decade ago, and what I look like today.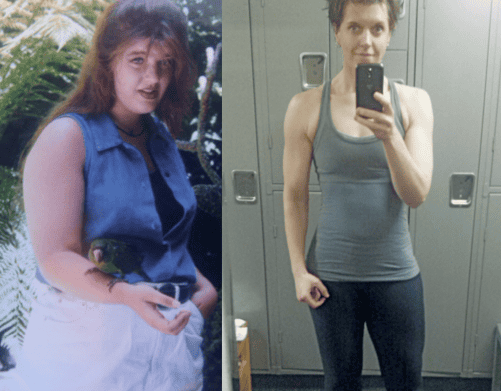 I have been on many diets and tried many weight loss techniques. Some worked better than others at taking OFF the weight, but none of them resulted in permanent weight loss; I always regained the weight.
That was until 5 years ago when I decided to stop dieting and instead take responsibility for my behavior, the behavior that had made me fat, and was keeping me fat.Over the course of the next 18 months I lost 80 pounds, and I have maintained a healthy, stable weight ever since.
According to any of the various and sundry fad diets I tried, I am doing EVERYTHING wrong.
-I eat carbs. Lots of them. I have averaged 350-450 grams of carbs a day for the last 5 years.
-I eat fat. Avocados, peanut butter, full fat dairy, full fat salad dressing, etc. Fat typically makes up 30-35% of my daily calories.
-I eat grains. I enjoy oats, rice, corn and more. I even eat…
-WHEAT. I bake my own bread and partake liberally of the handmade scones from my local baking co-op. I eat pancakes and waffles and sourdough.
-I eat sugar. I have a serving or two of ice cream almost daily. I eat chocolate, and again with those scones.
-I eat soy. Tofu and Tempeh are some of my favorite foods They are not my primary source of protein, but I do eat them regularly.
-I also eat lots and lots of legumes. Legumes ARE my primary source of protein. Peanuts, lentils, beans, yum.
-I eat epic amounts of fruit. During the summer it's not uncommon for me to make an entire meal of fruit.
-I don't take supplements or rely on meal replacement powders or bars. I haven't found any that rival real food for taste and nutrition.
Is your head spinning yet? So there are all the things I do WRONG, according to the gurus. Here's the factors that I attribute my success to:
-I stay aware of my calorie intake, because calories matter. They are not the ONLY thing that matters, but they certainly do matter. My intake has averaged 2800 calories a day for the last 5 years. I eat far too many calories to qualify as a calorie restricted diet. Too many carbs to qualify as low carb. Too much fat to qualify as low fat. Too little protein to qualify as high protein. My diet is, by any standard, moderate and balanced. No restrictions. Calorically balanced to my weight and activity level. Yes, calories matter. Anyone who tells you they don't is selling you a magic pill.
-I exercise regularly. The kind of exercise I do doesn't really matter. I've done lots of different things over the last five years, and I've made progress with them all. The form the exercise takes is not important, the consistency of exercise is. There's no optimal workout, no 'right' way to exercise. Do something, preferably something you enjoy. Do it regularly. Keep doing it.
Some of you (those who are not regular followers of my blog) may be experiencing an uncomfortable sensation right now. You feel a little anxious, maybe even angry. You have a suspicion that I am lying. You believe firmly that there is a magic macronutrient, or magic food or food group that is the source of your problems, or you believe that there is a magic diet or workout or supplement that will make your problems go away. What you are experiencing is called Cognitive Dissonance. Don't worry, it's pretty normal, and others have experienced it when confronted with my story. Cognitive Dissonance arises when a person is confronted with evidence that conflicts with their beliefs. People who believe deeply that there is a 'right' way of eating or exercising frequently react to hearing my story with dismissal, excuses and even anger.
One typical reaction people have is to ridicule my appearance. I hear 'you look like a man' a lot, and 'you turned into a dyke' which I don't consider an insult but the deliverer clearly does. People have insulted my hair, my tattoo, my breasts, my face, and my body in general. I've been compared to an Auschwitz survivor and called a whale. It is a way of dismissing me and my story, attacking the messenger so to speak.
Another common reaction is to try to rationalize away my success, and/or make up excuses as to why my method wouldn't work for them. I've had people say I am a genetic anomaly more than once (I'm not). One person said she can't do a power clean due to an injury so my methods would never work for her because I do power cleans. Someone else speculated that I get all my protein from soy, and since that person didn't eat soy my methods clearly weren't relevant to her situation. These are fairly minor excuses, but there have been far bolder accusations flung at me. One blogger dedicated an entire post to speculations that I use steroids (I don't) and have an eating disorder and exercise addiction (I have neither). Others have accused me of lying about how much I eat (I don't).
Cognitive Dissonance is a very uncomfortable state to exist in, and people have all sorts of ways of rationalizing it away. When one is deep, deep in the dogma of a dietary philosophy, evidence that someone has succeeded by doing things they have been indoctrinated to believe are 'unhealthy' or 'make you fat' can cause agonizing dissonance and confusion. If you are having that experience right now, I invite you to spend a little time in those feelings. Really explore them with a critical, rational mind. Maybe it's worth questioning your dogma, especially if you're frustrated or feeling like you're not having the results you've been promised.
I am here to tell you that there is no magic anything. There is taking responsibility for the behavior that has created your problems, and there is doing the work necessary to change that behavior and create new habits. No ridicule or excuse will take away the cognitive dissonance. No amount of ridiculing me or making excuses for my success will take away the fact that I succeeded by creating new, healthier habits and practicing them consistently. I do not need to be perfect or eliminate foods I enjoy or buy into a dietary dogma to maintain my success, because I have learned that (mostly) good habits, practiced consistently is more important than ALL those things.