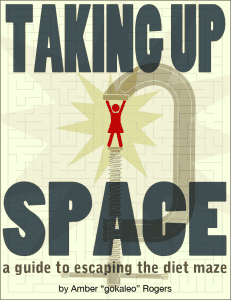 I dieted all my life. It was my normal. I was always either on a diet or regaining any weight I'd managed to lose on the last restrictive and unsustainable diet I'd tried. And then five years ago I stopped dieting. I started eating to support a healthy weight. And over time, my body stabilized at a healthy weight, and I've maintained that healthy weight with no arbitrary food rules, no restrictions, no shame or guilt or deprivation.
In Taking Up Space I share my story. I explore the cultural paradigms that keep women in a cycle of restriction and regain. I explain how I broke free and learned to appreciate my body, learned to enjoy food without shame and obsession, learned to give my body the fuel it needs to be strong and healthy and AWESOME.
Taking Up Space is not a diet book. There are no meal plans or lists of 'good' foods and 'bad' foods. I won't tell you what to eat or how to eat or when to eat. I WILL give you the tools to figure out how much food you need to support a healthy weight. I will help you form realistic and sustainable habits, habits that will support energy, well being and a strong healthy body. I'll show you how to not only reach a healthy weight, but to maintain it long term.
In Taking Up Space, I also discuss disordered eating, how to identify the signs and symptoms, and how to find appropriate treatment.
Price: $9.99
To purchase Taking Up Space as a downloadable pdf: