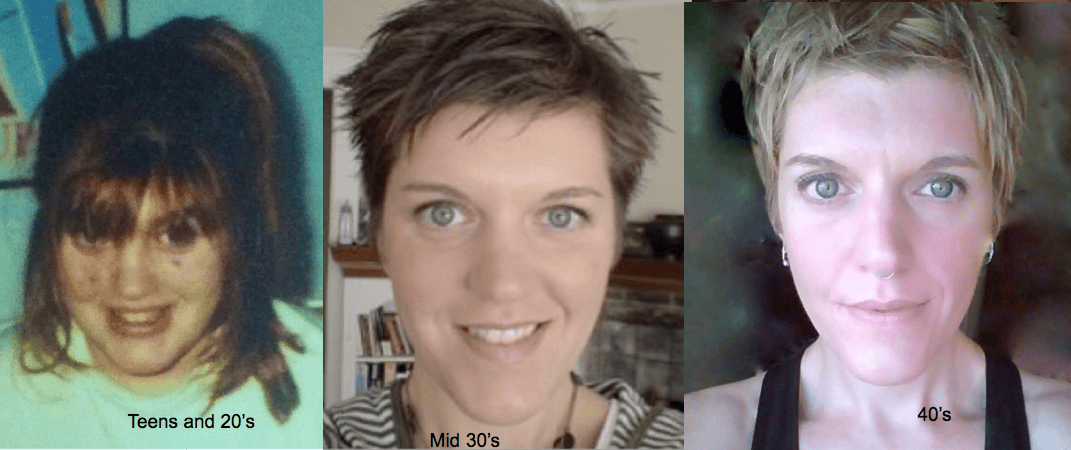 I've had multiple requests for a post on my skin care and makeup routine. Which is amazing to me, because my skin has sort of been the bane of my existence since I got my first pimple at age 9. People have asked me to share the products I use, and I will, but want to emphasize that the products are really secondary to the lifestyle stuff that has made the real, fundamental difference in so many areas of my life, including my skin.
A brief history: I have had acne since I was 9. In early adolescence I developed painful cystic acne on my face, chest and back. I know now it was due to hormonal issues (see my PCOS story here), but of course I didn't know that then, nor did my parents, neither of whom had dealt with acne to that degree as teens. Throughout my teens, I attacked the acne as best I could, first with over the counter products and then with prescription products of escalating potency. It culminated with two courses of Accutane in my late teens that worked, temporarily. The acne came back.
Through my 20's and early 30's, I continued to try to deal with my acne with over the counter medications, prescription medications and various diets. It was very frustrating, virtually nothing worked. Except benzoyl peroxide. Benzoyl peroxide did help a little, reduced oil production, and if I was consistent with it I noticed some improvement in my acne. Over the years I tried different brands, both cheap and expensive, and realized the cheap stuff works just as well as the expensive stuff. So eventually I just stopped messing around with the expensive stuff and stuck with Benzac 5% Benzoyl Peroxide, which is what I still use when I get a minor breakout. It can discolor fabric, so I only use it at night, and stick with white sheets and pillow cases.
The real, profound change came when I started exercising, though. Exercise doesn't get the press it deserves as an acne remedy. Remember how I said my acne was a hormonal issue? Well, I didn't know it when I started exercising, but exercise was the key to normalizing my hormones. Regular exercise affects hormone function in many ways. It improves insulin sensitivity and leptin sensitivity (both hormones), it reduces cortisol and adrenalin (stress hormones), it can ease anxiety and depression, probably by positively affecting neurotransmitter levels. It also regulates estrogen and progesterone production. I saw these dynamics play out in my own body. As I established a habit of regular physical activity, my blood sugar issues improved (due to better insulin sensitivity), my anxiety and depression eased, my periods got more regular, most of my symptoms of PCOS resolved…and my acne cleared up. None of this was because of a diet or a medication or a skin care product, it was all due to regular, consistent physical activity. And I'm not a genetic anomaly, these hormonal effects of exercise are well supported by scientific literature. Why we don't hear more about them is beyond me.
So exercise is the biggest piece of the puzzle. If you're not exercising regularly, I encourage you to begin! If you're looking for a very basic beginner program, check out my First 100 Days program, written specifically for those new to exercise or returning after a long time off.
And now, the part I know you've been waiting for, the products I use. My breakouts are much more mild now than they've ever been, and as I said before, I use inexpensive benzoyl peroxide when (if) necessary. My real skin 'issues' at this point are acne scars and dark spots, sun protection, and occasional dryness as I get older. I'm getting wrinkles, but I don't mind them, they are the evidence life leaves on my face, evidence of smiles and squinting in the sun, evidence of a life well lived. So I don't 'fight' them. They make my face my own.
I try to balance price, quality and mindfulness of ingredients in the products I choose. Most of the products I use are fairly inexpensive and 'natural'. I wash my face twice a day with Avalon Organics CoQ10 Cleansing Gel. I use Avalon Organics CoQ10 Toner
in place of moisturizer most of the time, as my skin is oily enough that I don't usually need a heavier cream. Once in a while, usually when the seasons change, I'll have a little patch of dryness, so I keep the moisture cream from the same Avalon line around for those times. Q10 seems to have some scientific support as being beneficial and I can certainly attest that my skin responds well to products that contain it. The Avalon line is lovely, not ridiculously expensive, and more natural than some of the 'luxury brands'. I especially like that the cleanser and toner give me some of the benefits of a moisturizer without the…you know, moisturizer.
I do have a few splurges that I'm willing to spend a little more money on. These products are also less 'natural', though I've done some research on their ingredients and feel comfortable using them in the context that I do. I use BB or CC cream in place of foundation. These products provide sun protection, moisturizing properties, and a sheer, light coverage that evens out skin-tone without looking 'made up'. BB stands for Beauty Balm, and CC stands for Color Correction. BB creams provide basic coverage and protection, CC creams add an element of redness reduction. I have dark spots from acne spots, the CC creams can tone this redness/darkness down. Virtually every cosmetic brand has a BB or CC product, so if you have a brand you especially like, try out it's BB/CC option. I really like the Stila CC Stick and BB Cream (I'm sort of a Stila whore…) but there are several less expensive brands that offer very good options too.
My main skin issue now is scarring and dark spots from acne. I've found two products that really make a difference. I use Murad Pigment Lightening Gel
sparingly when needed for hyperpigmentation, then switch to Peter Thomas Roth De-Spot
for more general use. These two products have made a major difference in the appearance of dark spots from acne scars, and also just seem to make my skin look brighter in general. ou can get all these products at Beauty.com right now, plus a free extra cool makeup case with really generous samples with your purchase!
I recently discovered DHC Q10 Eye Cream and am sort of obsessed with it. So those are my splurges, and I've found them all effective and worth the extra cost.
I keep my foundation minimal, usually just the BB and CC products I linked above. I have fun with eyeshadow and lip color, you can check out my Beauty Over 40 pinterest board to see some of my makeup ideas, or just click on the image here: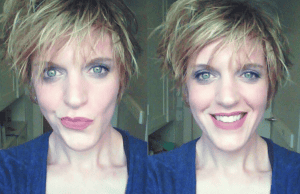 I haven't found that specific foods make my skin better or worse, but some foods certainly give me better energy, and better energy makes me more active, which DOES make my skin look better. So I prioritize eating in a way that provides me with energy (carbs!) and enough calories and protein to recover well from workouts. I eat to support an active lifestyle, because the active lifestyle is what keeps me healthy. I discuss eating to support activity in my ebook 'Taking Up Space: A Guide to Eating to Support a Healthy Weight'.
In the end, my recommendations for healthy beautiful skin are pretty simple: stay active (and get active if you aren't), and eat in a way that supports that activity. Protect from the sun. Use products specific to your needs, and they don't have to be expensive to be effective. Let your own beauty shine, we are all different and there is beauty in those differences. I want to see your face!