*Warning: this post contains epic amounts of sarcasm. Read at your own risk.
I don't share recipes often, but I was so pleased with myself for creating such a horrifyingly unhealthy recipe that I couldn't help but share!
This recipe contains so many toxic ingredients it'll make your head spin! We start with onions, which contain allicin, which is, of course, toxic. I browned them in olive oil. We all know that heating olive oil makes it toxic. Legumes (lentils and chickpeas) contain lectins which are both inflammatory and toxic and trigger leaky gut!!! YIKES! The chickpeas were canned, so likely contained BPA (even though I used a brand that claims there is no BPA in their cans. You can't trust Big Food though.) Broccoli and kale are both goitrogens which are, again, toxic. They also contain oxalic acid, SO TOXIC!!! I used condensed stock (which is of course toxic) rather than taking the time to prepare home made bone broth – I am a horrible person.

The water I used was from my tap, which is toxic. If I really cared about my health I would use paleo water. I added some chopped tomatoes on a whim, which are a nightshade and a deadly toxin.
In the plus column, I used celery, which according to Robbwolf.com is actually ok, but only if you can determine through a series of mental gymnastics that you are really, truly hungry. My hunger did not meet the criteria, so I imagine it was toxic as well.
Here is the sinister simmering result: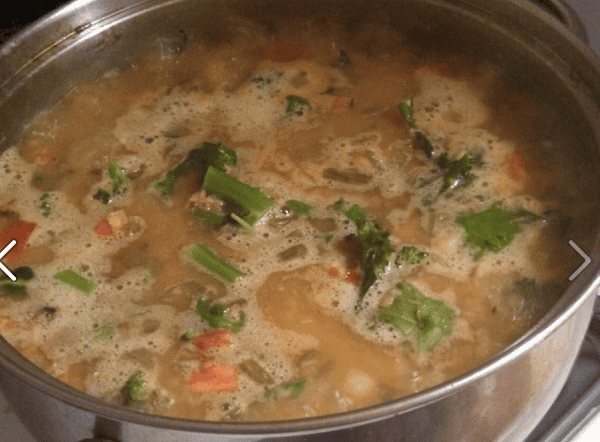 Recipe:
Splash of olive oil
1 onion, chopped
Several stalks of celery, chopped
About a cup of dried red lentils
2 quarts stock
1 can chickpeas, drained
1 head of broccoli, stems and florets, chopped
several handfuls of kale
2-4 ripe tomatoes, chopped
salt and pepper to taste
Soak and rinse the lentils, set aside. Brown the onions and celery in olive oil, then add lentils and stock. Bring to a boil, let simmer until lentils start to soften. Add broccoli stems and chickpeas and simmer a few minutes, then add florets, kale and tomatoes and simmer a few more minutes until everything is cooked through. Turn off heat and let sit for a few minutes, then serve with salt and pepper to taste.
*I didn't have any garlic or I would have added it to increase the toxicity.
Enjoy! Until it kills you, of course.